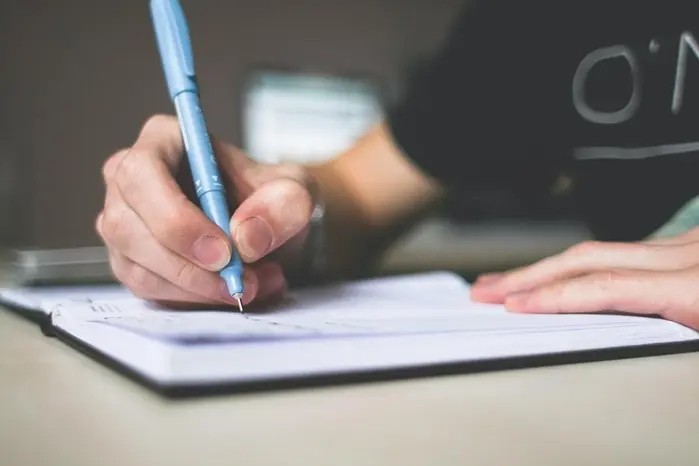 I'm gonna be honest with you, I couldn't start writing this article for like 20 minutes. I knew what I wanted to write about, I had a plan for it, but I just didn't know how to start my first sentence. Is that a familiar feeling to you? Do you often get stuck when writing an essay? Well, that shouldn't be a problem anymore since I've got a list of sentence starters for you.
Unlike me, you can't just start your paper with such a confession. However, using some good sentence starters for essays will help you to get your thoughts on paper (or screen) much faster. Consider them a hook that will fish the whole sentences out of your head.
Introduction Sentence Starters
An essay or article begins with an introduction, setting the stage for the following content. The initial sentences, often termed 'topic sentence starters,' are critical in engaging the reader. They offer a brief glimpse into the paper's subject matter and aim, sparking interest and encouraging the reader to continue. So, while these introduction sentence starters for essays will help you write the first paragraph, they will not serve as concluding sentence starters (you'll find those further below).
This essay discusses...
In this essay...
The definition of...
Views on... range from...
The subject of discussion
The key aspect discussed...
(The subject) is defined/examined/explored/justified…
We will be discussing…
The theme of this article…
The issue is focused on…
Using effective sentence starters can significantly enhance the quality of any piece of writing. They provide a roadmap to guide your reader through the argument you're about to make, showing them the direction your writing will take. The right topic sentence can serve as an invitation, drawing your reader into your thoughts and ideas.
Paragraph Starters
The essay sentence starters utilized in the body of an essay constitute the most extensive group and for a good reason. As the heart of your piece, the body paragraphs demand diverse starters to guide the flow of thoughts and arguments. The body paragraph starters are the most numerous group, and that's not surprising. These sentence starters are further segmented into smaller clusters, each designed to serve distinct rhetorical aims. This stratified structure is far more user-friendly than a simple, unwieldy list of essay sentence starters.
As an essayist, you've mapped out your argument and understand what you wish to articulate in each subsequent section of your essay. With the backdrop of prior sentences paving the way, your task becomes clearer: identify the specific purpose of the next part and select the ideal sentence starters for body paragraphs that align with your intended direction. This approach not only streamlines your writing process but also enhances the coherence and fluidity of your work. And it's more convenient than having a long list of sentence starters for essays.
Expressing a Viewpoint
Expressing a viewpoint in any form of writing is pivotal to establishing the direction of the discussion. Effective sentence starters for introduction can facilitate this process, setting a strong foundation for the arguments that are to follow.
According to my point of view, ...
My position is that...
In my view, ...
As I see it, ...
To me, ...
I think that...
I believe that...
In my opinion, ...
It seems to me that...
My stance is that...
My attitude is that...
The art of expressing a viewpoint is to establish an engaging connection with the reader right from the onset. Thoughtfully chosen sentence starters for the introduction can achieve this, laying down your stance and inviting the reader to step into your perspective. This initial assertion of your viewpoint guides the reader through your thought process, setting a clear path for the discussion ahead.
Comparison and Contrast
Comparison and contrast are foundational strategies employed in writing to draw similarities and distinctions between elements. These tools provide depth and clarity, enabling readers to understand the subject from multiple angles. Effective good starting sentences for essays can highlight these comparisons and contrasts succinctly.
Similarly, ...
In comparison, ...
In the same way/manner, ...
Likewise, ...
Just like (before), ...
Complementary to this...
In contrast, ...
On the contrary, ...
This is in contrast to...
On the other hand, ...
Whereas...
However, ...
Nevertheless, ...
Notwithstanding...
Despite this, …
And yet…
While this is the case…
Then again…
That aside…
Conversely...
Using comparison and contrast in writing, amplified by starting sentences for essays, can help maintain the reader's attention by fostering a dynamic perspective on the subject matter. It enables a multifaceted exploration of the topic, sparking curiosity and fostering a deeper understanding in the reader.
Cause and Result Starters
Establishing a cause-and-result relationship is vital in constructing a compelling narrative or argument. Using appropriate topic sentence starters for essays can seamlessly convey this connection, indicating the reasons behind certain events or outcomes.
For this purpose...
Since...
Otherwise...
Subsequently...
That's why…
Due to the fact that…
This means that...
For this reason…
Therefore…
With regard to…
Considering…it can be concluded that…
It can be seen that…
It is apparent that…
After examining…
The connection...demonstrates...
The artful integration of cause and result phrases, strengthened by sentence starters for essays, adds depth and credibility to your narrative. It underscores the logic of your argument or the sequence of events, offering the reader a clear roadmap of your thought process. Such precision makes your essay more engaging and heightens its persuasive power.
Sentence Starters Used for Emphasizing
Writing often necessitates emphasizing certain points to highlight their importance or relevance. These emphases guide the reader's attention and underscore the key elements of your narrative or argument. Using compare and contrast sentence starters can serve this purpose effectively.
As usual…
Above all…
Obviously…
No doubt…
In this situation…
Especially…
As a rule…
Clearly…
Without a doubt…
It should be noted…
Positively…
For the most part…
Indeed…
More importantly…
Unquestionably...
The art of emphasizing key points, especially through sentence starters, effectively heightens the reader's understanding and retention of the most important information. By directing their attention to the crux of your argument, you ensure the core message of your work resonates with them.
To Present Prior or Background Ideas
Providing background information or referencing previous ideas is essential to establish the context for your reader. It helps them understand the progression of your argument or narrative. The question often arises: "What is a good sentence starter?" that can effectively accomplish this task.
Prior to this…
Customarily…
Initially…
In the past…
Beforehand…
Over time…
Traditionally…
At the time of…
The traditional interpretation…
Recently…
In earlier…
Until now…
When conveying prior or background ideas, understanding the importance of a good sentence starter is key. These starters ensure your reader can follow your argument coherently, providing the necessary context to comprehend the subsequent points. It enhances your writing's clarity and makes it more engaging and persuasive.
Sentence Starters for Additional Ideas
Are you going to add new information when crafting your college assignment but have no idea on how to do it? Feel free to choose one of the following sentence starters. They will help you create a winning assignment.
In addition…
Furthermore…
As well as…
Additionally…
Subsequently…
Another reason…
Likewise…
Another essential point…
Firstly, …. secondly,...
Coupled with…
In the same way…
Ten again…
Moreover…
Also…
Equally important…
To Present Common or Rare Ideas
When providing information that is rare or vice versa common, you may have a wish to indicate it using the right starter. Pick the one from the list to help you write a standout paper.
Seldom…
Rarely…
A few…
Not many…
Quite often…
On occasion…
Almost all…
Many…
Several…
More than…
The majority...
To Give Examples
If you want to provide an example when completing your college assignment, check the list of sentence starters below. There is a pile of variants to put your thoughts on paper.
An illustration of…
Such as…
Specifically…
As an example…
To illustrate…
As demonstrated by…
It is shown….
This can be seen…
For instance…
For example…
Markedly…
In this case…
Including…
Especially...
The list of sentence starters I've prepared for you will allow you to craft a diverse and coherent piece of writing. No doubt, populating your papers with a variety of sentence starters will make them engaging and easy to read. Once an assignment is completed, it is a pretty good idea to proofread your work to ensure you've used the sentence starters correctly.
FAQs
Understanding and utilizing effective sentence starters is crucial for college students as it enhances the coherence and flow of their essays, engages readers from the beginning, and helps convey ideas more clearly.
Powerful sentence starters can include thought-provoking questions, impactful quotations, vivid descriptions, or compelling anecdotes. These elements can grab the reader's attention and set the tone for the essay.
College students can strike this balance by selecting sentence starters that align with their writing style and the overall theme of their essay. It's essential to use sentence starters as tools to enhance their expression rather than replace their unique voice and perspective.