Hey, want to make the most of writing services? Here's our this month's best picks:
Service with a negative reputation
Updated: September 08, 2022

Author: Will Martins
We don't recommend this service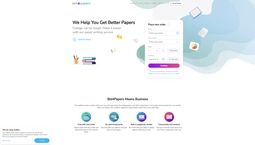 Pros
Possibility to choose a writer and check his writing skills before paying for the order
Cons
The support team that is slow and not really helpful
Rare and mostly negative reviews online
The pricing policy is shadow and you cannot calculate the price of your order beforehand
No revisions after approval, no refunds at all
No loyalty program and no discounts
| | |
| --- | --- |
| Owned by | FrogProg Limited |
| Years in operation | 9 |
| Minimal price per page | $13.00 |
| Deadline | 3 hours |
| Revision policy | Yes |
| Refund policy | No |
Hello, and welcome!
Today we're going to review another custom paper writing service with its benefits and drawbacks. I have to admit that there is an array of issues that make this service not that great compared to its competitors. It's called Bid4Papers, and my impressions regarding this company are highly mixed, to be honest.
Basically, the website itself does not contain anything eye-catching and aesthetically pleasing. However, at the same time, I like the fact that the website tries its best to explain how does this service work and what are its major advantages.
Still, the contents of the website are less concerned about providing you the details of the order process, especially when you face certain problems with revisions, payments, refunds, etc.
All in all, from the main page of the website, you can access such sections as prices, FAQs, the description of how does Bid4Papers work, and two more sections that have really pissed me off. Let me tell you why.
First, it's the "Latest orders" section that only provides the feedbacks of the clients about orders (I thought that this section would be more focused on providing at least partial samples of their work). Instead, we can see there something close to this:
Secondly, it's the "Support" that does not really provide any kind of support to a potential client; it just tells about how the company's Support Team works. Like, both these sections make no sense to me whatsoever.
Support team
As we already started discussing the company's support team in the previous section of this Bid4papers review, let's keep on analyzing them. In short, you shouldn't expect too much from these guys.
It's because you cannot access immediate assistance through chat. You cannot call them because they don't have any phone number all you can do is to write them a ticket and wait for approximately 7-10 minutes for a response. Like, I don't mind using this option to provide support, but I'm against making it the only channel of communication with the buyers.
As you can see, I was wondering whether it was possible for me to send a paper for revision after approval. I was also asking about any bonus or loyalty program for long-term buyers. The support team's response came 9 minutes after my question (by that time, I forgot about my questions and the fact that I have asked anything).
Secondly, instead of just providing a short reply to my questions, the Support Agent decided to overload my brain with unnecessary information that I was not interested in. Like, you see all this info about stuff that is not even closely related to my question. In total, the support's reply should have looked like this:
That's what kind of an answer I was looking for fast, short, and comprehensive. Instead, these guys take a long time to reply and provide you with really redundant and irrelevant info.
My experience
Is Bid4papers scam? I was looking for a short and easy paper about the effects of yoga on the human body and mind. It should have had three pages and should have been delivered in 4 days. I've paid $60 for this. What's interesting about the prices of this company - they tend to pay their writers significantly less than you pay to the company.
My writer was supposed to work for $6 per page, and he coped with my order, I gotta admit that. However, there was no point in paying $60 to the company because I've wasted my time to place the order and to find a writer by myself.
I admit that the company hired the writer and offered him a possibility to work, but the price difference is too much for me. If it were a little bit lower, I would have ordered the Bid4papers.com plagiarism report, but I've decided not to do it.
Order form
Cannot say anything special about the order form of this company. It just asks you to include your contact details, characteristics of your order that are limited to the deadline, number of pages, and style of referencing.
As you can see in the screenshot above, there are four stages in the order placing process. First, you include the instructions, second, you choose a writer, third you pay for the service, and further you're allowed to track its progress. Additionally, in terms of extra services, the company does not have much to offer.
They just can assign the writer for you and spare you from choosing a writer on your own. However, be prepared to pay extra for this. For example, my three pages would cost $80 with an automatically assigned writer; however, if I were to choose the writer on my own, the paper would cost only $60. The difference matters, right?
Another extra feature of this service is to mark your order as "Featured" for $4.95. This status means that your order will be somehow highlighted in the list of orders shown to the writers so that the best writers would place their bids faster. Don't think that it's a useful extra feature anyway.
Next, you're asked to pay using PayPal. You can also pay with the credit cards that you generally use for various online purchases. You'll have to register PayPal anyway because all the payments of these guys are being processed through this payment system.
I understand that it does not make much time and effort to register a PayPal account, but I believe that this limitation would scare off some buyers, as well.
Prices and discounts
As you might have noticed, Bid4Papers does not offer any type of discount or any other form of price deduction that would either attract potential buyers or stimulate making further purchases. The complete absence of a referral program or some loyalty program also makes me highly biased towards the company.
It seems like these guys are living in the Middle Ages because they don't realize the realities of contemporary digital business. Or maybe I'm just complaining too much. Whatever. The prices of these guys are also a great mystery for me. You won't get any minimum or maximum price for a particular order depending on its complexity and its deadline. You just get something like this:
Obviously, these are not the highest prices on the market; however, I don't really understand how they are being calculated. It also seems like there are no limits to the price changes because they are highly dependent on the writers' bids that are not regulated by the company.
Or they are regulated, and we won't know about it. So, I don't like the fact that the company's price policy is somewhat shadowy.
Revisions
Is Bid4papers legit? Remember my conversation with the support about the revisions after approval? Let me remind you, these are impossible and you will have to place a new order if you want to amend something after you release the money to the writer.
However, while the order is still in progress, you can send as many revision requests as you want. Eventually, there was no need for revisions. The writer did above-average work, which was fine by me.
Final quality
The paper was about yoga, as you might remember. It was ok for me. Additionally, my professor has given it a B, which was also fine for me. I didn't have to write the paper myself.
Like, you can check the quality by yourself because the writers can provide you with a preview of their writing before getting assigned to your order.
Obviously, the paper has not been written by an ENL. Of course, there were some minor mistakes and typos, especially when taken into account the punctuation, but anyway, it was ok for me.
Writer`s proficiency
As you can see in the screenshots mentioned below, the writers here are working under nicknames and refuse using their real names, which is fine, I guess.
Despite the fact that the writer was rather slow in his responses and his actions, he was still very much eager to start working on my order, which I liked. And eventually, he provided a paper of satisfying quality.A
At the same time, I still don't understand why did I have to pay that much. I mean, the writer here gets $6 per page, which means he gets $18 for my paper. The order costs $60. Here's the question in this regard: "where did the rest $42 go?"
People talking
I started looking for Bid4papers reviews. People don't talk much about these guys. I could find just one review on Sitejabber, but I can't judge the work of the company by the only one feedback. Scamfighter evaluates them as 2.5 out of 5, which is not a good mark.
Similar Reviews
FAQs
| | |
| --- | --- |
| Is bid4papers.com safe? | I just want to warn you not to rush to approve the paper. After that, you won't be able to receive a free revision, and you will have to place a new order. |
| Is bid4papers.com reliable? | I think, yes. The assigned writer didn't miss my deadline, so I could submit my paper on time without the stress and need to write it myself. |
| Is bid4papers.com a good service? | As you know, the written paper brought me B, and I was satisfied with that. So this service is a good option for students who don't strive to achieve academic heights. |
| Is bid4papers.com scam? | No, it's not, as they wrote quite a good paper for me. However, it wasn't done by an ENL as they had promised due to mistakes and typos that I found. |
| Is bid4papers.com legit? | It was difficult to judge the company by one feedback on Sitejabber. Fortunately, I found a review on a Scamfighter, but the company's rating was 2.5 out of 5. |
Comments (7)
allen851008 says:
at 2021-01-22 20:39:00
I have a paper that is due at 11:59 tonight and I've been trying to submit the paper but for some reason one of the staff blocked me so I can no longer make any purchase on this site. So rude!!!
Wimarkeypalmer says:
at 2021-04-05 07:34:00
The first writer failed to follow the instruction I uploaded originally, which just needs him to fill up a form and write down a page of music examination. Before his second draft, I uploaded a sample that is written by another writer. To my surprise, he copied the work in the sample while he is writing totally different topic from the sample, and he thinks I wouldn't notice it. He lost my trust in the second revision. Therefore, I asked a support agent to replace this ridiculous writer with the perfect writer in the order #6654251. The support agent told me that he would do so. In the third draft, the plagiarized part is still in the paper and the form is still not finished. Apparently, the support agent lied to me. At this point, I lost my trust in both support agent and the writer. I am extremely upset, and I asked another support agent PLEASE replace this GOD DAMN FILTHY writer. As I took a look in the forth draft, thanks God the plagiarized part is finally changed, BUT this writer STILL didn't follow the instruction which is simply filling up the form I posted. So I asked for another revision. The support agent told me the writer needs 8 hours to finish the revision. Guess what? The writer deleted a paragraph in the forth draft and CALL THIS REVISION. He took 8 hours to delete a paragraph in a paper. I guess PRO WRITER should be super efficient? Finally I got a paper right in the sixth revision, and I don't know how many days this paper has past due. PLEASE reconsider those writer's category, since he not only failed to follow instruction but plagiarized.
thesistershop_rn says:
at 2021-05-29 22:40:00
dishonest and time wasting. they said they are going to work on my research and they were actually wasting my time and not giving me what I asked and paid for.
pauline.olsson says:
at 2021-05-17 17:41:00
The writer has failed to meet the requirements set for this assignment. This has take too much time and each revision has been no closer to completing this task. The support agents have been excellent in responding back to me especially when still waiting on the writer who was overdue with the current versions. This has been a disappointing experience.
fessprop says:
at 2021-06-05 12:37:00
This has been frustrating as initally the criteria for the essay was not read correctly and the case study was very poor, in quality and grammar, it puts me under pressure if I have to keep sending this back for revision. Also when 8 reference are required that forms part of the requirements not 7 or 3
sunshiine27 says:
at 2023-11-16 17:47:00
It didn't fulfill the page number requirement.
magalich says:
at 2023-11-26 23:11:00
I had to have this paper re-written approximately 7 times until it went to top writer. The writer quality of this company is deteriorating quickly. The customer service was also unprofessional and lacked customer service. I had to demand Top Writer or a refund. Unknown if I will use this company again!