Hey, want to make the most of writing services? Here's our this month's best picks:
Service with a negative reputation

Updated: January 11, 2023

Author: Will Martins
We don't recommend this service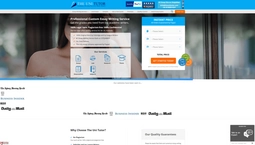 Pros
Above average quality of writing
The service guarantees you a specific grade for a received paper
Cons
The Support Team is fast but not really friendly and helpful
The price is one of the highest among the competitors
The minimum number of pages is 4 (if you need less, you still gotta pay for 4 pages)
Revisions are free within 7 days after approval since the 8th day - pay more
Complete absence of extras and a loyalty program
| | |
| --- | --- |
| Owned by | Not Given |
| Years in operation | 20 |
| Minimal price per page | $87.00 |
| Deadline | 12 hours |
| Revision policy | Yes |
| Refund policy | Yes |
Hi everyone! Let's review Theunitutor.com - another custom paper writing service promising not only the high quality of the paper but also the exact grade for your academic level. Obviously, this service is not cheap, and it's up to you whether you agree to pay for it. As usual, let me share some pros, cons, and personal impressions about this website in the Uni tutor review.
I like the fact that all the required information is already given on the main page of the website. I like the simplistic yet eye-catching design as well. Here, we can see the price calculator, the services of the company, and its benefits. There is not enough information about the revisions, refunds, and prices of the company.
Instead, there are direct links to Sitejabber and Trustpilot showcasing the positive Theunitutor reviews of their customers. In other words, everything's there, but if you need to get more information, be prepared to either dig deeper into the website's content or communicate with the Support Team. But don't worry, I did that already, so you don't have to.
Customer support
Cannot say that the Support Team here is the fastest and the most helpful on the paper writing market. Although my Support Agent Sarah was rather fast in picking up the chat and responding to my questions, she was less focused on assisting with my question.
Also, the speed of her answers resulted in multiple typos, which is also not that good.
As you can see, I've tried to ask for a discount here. Sarah did not even say hi to me and just replied with a couple of words. I suppose she didn't like me for some reason and was more focused on getting rid of me.
That's why she left the chat before waiting for my further question. But the funny part starts in 15 minutes when she called me Manish and told me that they hadn't received his payment. I was really confused because she suddenly disappeared from the chat and suddenly appeared again. Strange.
My experience
Four pages, English, Master level, 3 days deadline - seems like a standard order that you usually place on a custom paper writing service. However, it does not cost more than $560 there. Believe me or not, this website provides the most expensive papers I've seen so far. And despite the fact that the quality of the paper was really good, I don't think it was worth spending that much money.
Order form
Placing an order here is relatively simple, as long as you know the peculiarities of your assignment. Here, you're to upload the detailed instructions for your essay, and/or grading criteria that will indicate the requirements for the specific mark you wanna get.
That's why you can order the exact mark that you want to get by submitting your paper. You can order a C-grade, B-grade, or an A-grade paper. Of course, you have to pay a lot if you want to get an A.
What also surprised me, you gotta pay for revisions, if you want these guys to revise the paper in more than 7 days after the order's approval. I mean, it's great that Theunitutor wants to earn as much as possible, but I feel like it's too much.
Further, each page equals 250 words here instead of 300 or 275 offered by other paper writing companies. So, for 4 pages you get 1000 words instead of 1100-1200. Eventually, once you've indicated everything and you're ready to pay, you're being forwarded to the payment page. You can pay with PayPal or your credit card.
In total, it's a simple and rather basic order form that is comprehensive. However, I don't like the complete absence of extras that are related to the paper and/or customer experience. No plagiarism report, no abstract page, no SMS-notification service - nothing. And I don't think that the initial price of the order includes all these additional services.
Discounts and pricing
You can only find some information about the prices of these guys by continuously clicking the price calculator. The prices here start from $95 for 4 pages. You won't get any price deduction if your order contains less than 4 pages. So, if you just wanna get 2 or 3 pages, you gotta pay for 4 pages. Is it fair? I think it's not.
And that's for the longest deadline, which is indicated 21+ days. For the shortest deadline, which is "Next day before noon" (why not indicating the exact deadline?) you have to pay $168 per 4 pages. In other words, it's expensive. FOR REAL. And another thing, you should not count on Theunitutor discounts.
Remember, Sarah from the Support Team? She promised 10% in the majority of cases, but there's no info about the unitutor coupon whatsoever. Basically, such price is justified by the fact that Theunitutor hires the most experienced and skilled writers who require a high salary. But, I don't think that they are that great and that they do such aA great job. In addition, you just get the paper for this price and nothing extra.
Revisions
These guys offer unlimited revisions within 7 days after approval for free. If you want to revise the paper even later, you gotta pay for this additionally. I've sent the paper for revision just one time because of an enormous number of typos and misspelled phrases that required proofreading. Eventually, I've got an okay paper after that.
Final quality
To be honest, I've paid for an A-grade paper. Guess, what did I get? I've got a B from my professor. Don't get me wrong, it's a great grade for me, but I hoped for a higher mark. And I've paid a lot.
So, in total, I don't think it's really worth paying that much to get a mediocre paper. And if you're capable of writing an okay paper on your own, please do it, instead of paying these guys.
Writer`s proficiency
I appreciate that the communication with the writer was well-organized, and the writer was responsive and willing to collaborate with me.
However, I don't appreciate the fact that the paper was not proofread before sending it to me. In total, the writer did a solid job, but he should have paid more attention to the correct spelling of everything he wrote. But look, what these guys write about their writers.
People talking
People's reviews online are majorly positive. Theunitutor.com rating is quite high; however, the majority of reviews tell that the price is just too high for the service provided by the company. I completely agree with them. Just look at these screenshots, and you'll be assured that I'm not lying. Trustpilot:
Sitejabber:
As usual, there's an array of positive reviews that seems to be either generated automatically or paid by the company. I mean, all the positive reviews seem too generic and look more like advertisements. In total, people are rather satisfied with these guys' services; however, they all complain about the prices.
I failed to find some Theunitutor reddit reviews on the net.
Similar Reviews
FAQs
| | |
| --- | --- |
| Is theunitutor.com safe? | Yes! The service offers fair conditions to its customers so that you can request unlimited free revisions within 7 days, even after the order approval! |
| Is theunitutor.com fraud? | Fortunately not, but I didn't get a promised A grade. The written paper brought me B, it was also good, but I expected a higher mark because of the price I had paid. |
| What do theunitutor.com testimonials say? | Most of the Theunitutor reviews are positive, and customers are satisfied with written papers. However, I noticed the main complaint about the high pricing policy, and I was completely agreed with them. |
| What is theunitutor.com rating? | As I've told previously, most customers were content with provided assistance, but those reviews looked rather fake. So I don't think there was a fair rating because I would give only 3.5 stars. |
| Is theunitutor.com scam? | No, but this service is so expensive, and not every student can afford to order there. I also discovered more disadvantages than benefits, so maybe it's not worth your time. |
Comments (7)
toomuchtoomuch5152010 says:
at 2021-01-24 20:03:00
After I downloaded the file and reviewed it again. This paper has the worst grammar ever. I am basically rewriting the whole thing. Very disappointed!!!!
johnpaulkendall says:
at 2021-05-13 18:54:00
Failed to deliver a final paper after 16 days ....TERRIBLE
slweisskopf says:
at 2021-07-28 12:49:00
Not at all impressed with this company. I specifically contacted them via LiveChat BEFORE placing my order to be sure that they could fulfill my request for a SIXTH GRADE level student council speech that was written from the perspective of a 12 year old girl and that was also lighthearted and funny. This is neither. It's tone, wording, content, etc... are written at a much higher level and not ANYTHING that my daughter can use for her speech this morning. VERY DISAPPOINTED and will NOT use this service ever again. I feel deceived and feel that I wasted money on something and was misled.
harrychan117 says:
at 2023-10-07 15:11:00
first of all, I had change 3 writers in this order, and this is the third writer that wrote the paper, however, this writer did not write in the correct way even though this version is better than the previous. If I remove the quote, the paper only has 1 and a half pages and I need 2 pages. I feel like I'm being fooled and now because of these issues, I didn't have a paper to turn in, and the due time is passed and I will have a bad grade in this paper, so I'm so disappointed, so please go to the refund process as they promised me before if I do not satisfied with the paper.
generaltan93 says:
at 2023-10-15 17:05:00
Writer did not fully amend the order. I will degraded him since he did not fix everything correctly before sending the revised paper to me. Furthermore, Kindly refer to the abstract section of the attached journal and refer to page 3 of 7436579.docx [Final] in this order. Writer directly cut and paste without rephasing this sentence:'Application of light transport theory allows addressing the spectroscopic changes in ageing blood stains to the changes in the chemical composition'.
realtmgs says:
at 2023-10-24 16:24:00
citations were messed up, incorrect data and information taken from sources. will need to fix the paper myself. which is not the purpose of this.
njomorodion says:
at 2023-11-03 17:52:00
A complete train wreck. They failed to complete what I requested in the agreed period of time even after taking money for it. I even gave them a couple of hours extension but what they had at the end of the nothing was a fraction of the assignment. They basically messed me about after taking money from me. Very unprofessional and infuriating.