Hey, want to make the most of writing services? Here's our this month's best picks:
Service with a negative reputation
Updated: September 08, 2022

Author: Will Martins
We don't recommend this service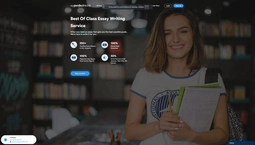 Pros
Responsive customer support
Free revisions
Cons
No table with prices, you need to fill in the order form to find it ou
Mediocre quality
| | |
| --- | --- |
| Owned by | Not Given |
| Years in operation | 7 |
| Minimal price per page | $15.00 |
| Deadline | 12 hours |
| Revision policy | Yes |
| Refund policy | Yes |
Here is My Perfect Words review, and I'll begin with the site overview. The website looks shady and dark at first glance. Guys, I hope that your reputation and quality of ordered works differ from what I see on my PC screen. I think there is a lack of bright colors. (at least, they've added a smiling girl, but could choose a little bit prettier one, lol)
The website looked user-friendly. I could read info about their writers, had a look at some samples of their works, knew about prices and read some Myperfectwords reviews. By the way, there were only five-star ones, and it made me really suspicious. Guys, are you really so perfect or, maybe, you have written all these reviews yourself? OK, let's go further.
Customer support
What I hated from the first minute is their customer support. It is Sooo annoying. I've just opened their homepage and was bombarded by messages from their support manager. At first, he asked me if I was ok. I replied - Fine and then he wondered if I was going to order the paper. I asked him to wait for a minute (actually my buddy called me, he had some problems with his girlfriend). Ok, I was talking by phone and was listening to these irritating sounds of the chat. Andy was attacking me, asking numerous questions. I will show you just a part of our conversation.
Ok, Andy, you're so impatient, don't worry, I'll place an order on your website but wait a little bit.
Summing up, their support service is really annoying but fast.
My experience
I've ordered an economic research paper with the topic "Labor Markets". I thought that it was a very interesting topic of the research, but unfortunately, I had no time doing it. I decided to count on these guys to write a perfect paper for me. I hoped to get it in five days.
Order form
The order form was quite simple. They wanted me to provide my email and a phone number first. Then I had to tell about the document type, my academic level, and a deadline. I gave these guys five days. When I saw the final price, I was a little bit shocked. Are you guys kidding? $380 for a 10-page research paper? It's too much, I think. Thanks to the first order discount I had to pay only half of the sum - $190.
Then I had to provide the paper's details. They were the title, the subject, the number of sources, description, and attachments. I've paid for my order by the Visa card. In my opinion, the service drives up prices and then cuts them down with the help of the generous Myperfectwords discount. It is not fair, guys. We are not idiots.
Discounts and pricing
As I've already told you, the platform offers a generous discount. 50% off on all orders.
Prices, offered by the platform are really high. Look at the table. $36 for just one page of a college essay that will be ready in 8 days. It's too much, I think. Don't be too greedy, Myperfectwords owners.
You may wonder - Are there any other types of discounts? I failed to find this info on the website, so I contacted my dear Andy. I told him that I wanted to order one more paper. He said that It would cost 50% less too, but he failed to provide detailed info about their discount policy. As I've understood from our talk, there are constant prices on the website. (the ones with the 50% Off discount) No matter, how many papers you order, you will pay the same price.
Revisions
The company offers free revisions within 14 days after the order completion. Nothing new. The majority of academic help services offer free revisions for their clients.
Final quality
I've got my research paper by the deadline. When I read it, I understood that it was written by the ESL writer. There was a lack of terminology and I didn't like how the paper was formatted. I had to return it for the revision, but still, the final variant was far away from the ideal one. I would not use this service again.
Writer's proficiency
As I've told you, my writer was not an expert in economics. I understood it from the first glance at my research paper. Shame on you, guys. I thought that you were a "perfect" company with skilled and experienced writers, but you appeared to be a simple bubble.
People talking
Every time when I decide to use the service, I look for its reviews. This platform wasn't an exception. I've found both positive and negative reviews on the net. You can have a look at some of them.
Sitejabber gives 4.1-star rating. I also decided to look for Myperfectwords Reddit info. I've just seen some posts with the links to the website. Summing up, reviews on the Internet are quite controversial.
Loyalty program
It is a pity but there is no loyalty program. I've asked my talkative Andy about it and you may have a look at his reply.
FAQs
| | |
| --- | --- |
| Is myperfectwords legit? | They do their best to convince students that it is a legit service. However, I tested it and found more disadvantages than benefits of ordering there, so I advise you to steer clear. |
| Is myperfectwords scam? | No, but it was a waste of money. I paid $190 for my paper, but its quality was disappointing! It seems all their promises of professional help are complete lies. |
| Is myperfectwords reliable? | I gave them five days to compose a good research paper for me, but it didn't happen. I got a paper with bad formatting and lack of terminology! |
| Is myperfectwords safe? | Yes, and they offer 14 days for requesting free revisions. I decided to use this option, but it didn't make my paper quality better, and it was still far from the perfect one. |
| Is myperfectwords trustworthy? | Myperfectwords reviews are quite controversial, and it's difficult to find out which ones are true. In any case, you know my experience and what to expect from their writers. |
Comments (10)
te_ce2006 says:
at 2021-02-14 21:03:00
Didn't follow the the guideline even when point it out in the revision. So I have to adjust it now in order to submit it.
adel_116 says:
at 2021-03-13 17:18:00
The grammar is supposed to be better than what it is in the paper.
chuchi_hill77 says:
at 2021-04-18 17:19:00
the initial paper did meet the requirements but the revision was much better.
amarlia60 says:
at 2021-06-10 22:23:00
Somewhat, the content was good but it was not enough words. Now I have to scramble to anwer most of the questions with 140 word count. I asked for a revision same day and was asked to possibly pay more money, support did ask me how else they can help, but am ticked off as this is only 40 % of my actual project. The rest I have completed on my own. I will just pay for this course work and work on the word count issue.
janatjanetis says:
at 2021-12-27 19:30:00
For the amount of money I paid, I expected a higher quality paper. Very little research was done for this paper, and it sounds as though it's been written by a middle schooler. As well, when I asked for revisions, very little of the paper was changed. So I've given up asking.
ninjabradytan says:
at 2022-02-06 12:42:00
The writer has no idea about the subject. He's pretty much bullshit all the way throughout the paper. He didn't use any theory to support his argument. Quite disappointed
amandasabean says:
at 2022-03-23 09:28:00
There are some obvious language differences between the customer service and I. It was difficult to explain to the writer the needs for revision
dwillie790 says:
at 2023-11-10 17:41:00
Customer service is always great, however this writer really shocked me! 78% plagiarism, directly from 4 other student papers! And even with this revision, I'm still not confident turning this in! So I went ahead and rewrote the plagiarized area myself.
sagarkunwar466 says:
at 2023-11-20 18:28:00
I submitted my work myself as it was due. The writer just sent me a copy/past work of a previous work; with feedbacks. If the manager wants I can send the document I was served. I did my own work and submitted it. I need my money for this paper.
cseimone08 says:
at 2023-11-30 15:01:00
While I appreciate the help, the paper quality even after the revision is sub-par. I do not appreciate that the syllabus was not properly read to begin with.