Hey, want to make the most of writing services? Here's our this month's best picks:
Service with a negative reputation
Updated: September 09, 2022

Author: Will Martins
We don't recommend this service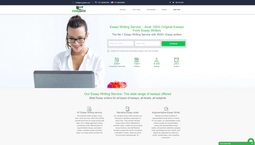 Pros
Free revisions
Free paper samples
Cons
Fake information on the site
Agents are always offline
Missed deadlines
Fake reviews
| | |
| --- | --- |
| Owned by | No data |
| Years in operation | 9 |
| Minimal price per page | $14.00 |
| Deadline | 24 hours |
| Revision policy | Yes |
| Refund policy | Yes |
Site overview
If you were looking for a marketplace to hire a writer online, this service might be a good pick for you. This platform foresees the ability to place an order, get bids, and choose the best one. Unfortunately, there are a lot of horrible writing websites that cheat on learners on the Internet. Is EssayGator legit? I will examine it thoroughly to find an answer.
Having a sharp eye, the first thing I noticed on the website was the disclaimer at the bottom of the page. According to the information provided by these guys, students are not allowed to submit the assignments they receive at education institutions. Also, they need to mention their source because no copyrights are provided. Needless to say, that it's not what learners need, paying for papers online.
Also, I noted that the information provided on the site is not truthful. For example, they state that the firm has been working since 2011. However, according to the information from the domain lookup service, the site was launched in 2013 only. Frankly, I don't know why they added a few years to their working experience.
Customer support
There is a live chat on the site. Unfortunately, it's impossible to reach an agent in the chat because they don't respond. Nobody picked the phone as well. Consequently, the only option to get your question answered by their manager is to submit an email. However, you shouldn't expect to get a response fast. It may take days to receive a reply via email.
My experience
As might be expected, my personal experience using this service was awful. Being unable to get in touch to clarify my doubts, I placed an order on their site and started thinking that I had to check EssayGator.com reviews first. The overall user experience was a nightmare.
Order form
The order form doesn't offer the ability to specify all the details. Therefore, you have to chat with a picked writer, providing detailed information about your order. You are free to choose a writer who offers the best price or matches your requirements.
Discounts and pricing
Since these guys have a bidding system, no information about the rate is provided. After placing an order, I received bids from three writers that ranged from $64 to $56 for a four-page persuasive essay that was due in 4 days. They state that there are 4,000 writers in their team, but only three writers shared their bids.
After picking an expert who offered the best price, I was shocked. Her name was Zoe Smith. However, there was an adult man in the photo! The account is fake! Also, only Hannah Ryan was marked as a writer who always meets deadlines.
Revisions
According to the refund policy, every student can request a free revision within ten days after paper delivery. However, as I mentioned in my EssayGator review, their managers may not respond for days. Keep this in mind.
Final quality
Sadly, I didn't get notified that my order was completed upon the deadline. I reached both the writer and a responsible manager but didn't get a reply from anyone. In one day, they delivered my essay. These guys didn't even apologize for sending a late paper. There also were a lot of misspelled words flagged by the Microsoft Word software. Other students who published negative EssayGator reviews also faced the same issue.
Writer's proficiency
Without a doubt, the writer I picked is an irresponsible person who uses the account with fake photos, reviews, and the number of orders completed. Also, they don't have a good command of English and poor writing skills.
People talking
I wasn't able to find any EssayGator.com reviews submitted by satisfied clients. Seems like that they don't have at least one client who would like to recommend using this service to other students.
Loyalty program
Since writers place their bids, no discounts are provided. Unfortunately, the bidding system does not bring the ability to negotiate with writers. They have no option to change the submitted bids.
FAQs
| | |
| --- | --- |
| Is EssayGator scam? | Even though the service cheats on clients and misses deadlines, it's not a scam. |
| Is EssayGator legit? | There is no legal information on the site. However, according to the data from the Internet, the company is located in the United Kingdom. |
| Is EssayGator trustworthy? | The website is full of fake information. Also, I could find only negative Essay Gator reviews on this service. |
| Is EssayGator a good service? | They miss deadlines, don't respond for days, and blocklist students when they request refunds. I assume the answer is obvious. It is NO! |
Comments (4)
lyonsc says:
at 2023-02-24 14:15:00
One of the references and citations stated that the text book was published in 2024, we are not in 2024 yet. So I will have to go through and amend that information.
babygirl11 says:
at 2023-02-24 09:43:00
i feel if its is a top writer they should know not to use extra words just to fill up space with words that really dont fit the first paper i ever got from this company was the best one yet
sherlockholmes says:
at 2023-03-10 13:05:00
It was frustrating having to reiterate my needs multiple times and even having to have a new writer. I will still need to make some changes but this is much better than we started with.
ttyu0474 says:
at 2023-03-09 06:33:00
Writer does not even understand my subject and topic. Everything was wrong and I failed. This was reason why I asked agent, if writer is well-known in my subject or not and the agent told not to worry about that. If you want me to prove that YES i do have chat record in my mail. Moreover, I had I was so mad that writer did not even follow my instruction and as you can there are so many revision. The service is lack of professional and such a disrespectful to customer and does not even care about what customer asked and want. Obviously, they will just say sorry and offer me discount something like that, but I am not a fisrt user of this service and had made a lot of order, but at this point, the limit passed my beyond. I am very anger and mad that I cannot get any backup because, you guys led me to fail. They seem like acting pro but need to care about and manage their writer.