Hey, want to make the most of writing services? Here's our this month's best picks:
Service with a negative reputation
Updated: January 11, 2023

Author: Will Martins
We don't recommend this service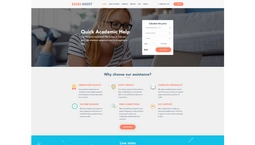 Pros
User-friendly and informative website
Affordable prices
Wide array of extras
Decent writers that provide above-average papers
Solid referral program
Cons
The Support Team is unfriendly and can hardly be called helpful
No discount policy for long-term clients
You gotta pay more if you want a better paper
| | |
| --- | --- |
| Owned by | Forpio Limited |
| Years in operation | 14 |
| Minimal price per page | $11.00 |
| Deadline | 3 hours |
| Revision policy | Yes |
| Refund policy | Yes |
Hey everyone!
It's me again with another review of another custom paper writing service. It's called EssayAssist and let me tell you that it's not the worst paper writing service that you can get online. In short, it's decent but needs significant improvement, nonetheless. Let's consider and analyze it in more detail, as usual.
I like the design and choice of colors for this website. It's light and not too bright, which is already a good sign because I really hate too bright colors. This website is not the case here, it features a user-friendly design and provides all the required information about the service that you might need before and after the purchase.
In particular, here we can see the price calculator that will calculate the price for your order and follow you through the process of making the order with these guys. As usual, all the policies, including Refund and Revision policies are hidden in the lowest section of the website (it's common practice, but it does not mean that it's really good).
Customer support
Not the best one, let me tell you that. Why? Despite the fact that they are really responsive and fast (like, for real), they care less about being friendly and helpful. Here's a screenshot of my chat with Phoebe:
So, as you can see, in spite of the fact that Phoebe was really fast with her responses, she was rather robotic in her communication with me. I don't know about you, guys, but I don't actually like it when a person replies just "Yes, we do" to my question "Do you have discounts for the first order?".
Next, she started telling me about price calculation instead of discounts and only a couple of minutes after that she replied that she could provide me with 5% essayassist discount code.
In total, instead of replying fully to my question in a friendly manner, she has been telling irrelevant info for 2 minutes and eventually replied. With just a couple of words. If you like that style of communication, go for it. But I'm not really a fan of this.
That's why I'd rate the Support Team 3 out of 5.
My experience
Gladly, my overall experience was rather ok, gotta admit that. The writer of these guys has shown above-average performance. I was just ordering a couple of pages with an analysis of a song that I chose (don't ask me, why did I need it); the writer did not ask for clarification and was not really cooperative but he has completed his job rather well and eventually I got C+. More than enough for me.
Order form
Clear, concise, and comprehensive. You won't find anything confusing or difficult to include while making your order. It just asks you to include all the relevant information about the order and pay eventually. Simple as that.
It's also nice that they're offering an array of extras for a rather affordable price. This also includes different categories of writers. More experienced writer will cost you more; therefore, I've just ordered a regular writer because I'm cheap like that.
Anyway, it's a good order form that gathers all the info and transfers you to the payment page. Payments are processed by PayPal by the way (so be ready to use an existing account or create a new one).
Discounts and pricing
There's no relevant info about their discounts. Or maybe I've just missed something. From my experience, I can tell that they can offer you 5% discount for your first order. Still, it's unknown, whether they provide any other discounts. So let's assume that 5% for the first order is the only thing you get there.
The prices of these guys are average on the market and are quite affordable for various budgets. You can even get a High School paper with 14 days deadline for $8.99 per page, which is one of the cheapest options on the market or go for $49 per page for the urgent paper.
Don't forget about the extras mentioned in the previous section of this essayassist review. The prices are also average, so these extras are definitely not overpriced. However, I'm not sure if the VIP service includes SMS notifications as it does on other paper writing services.
Revisions
In short, the company offers unlimited revisions for the paper. However, you've gotta submit the revision request within 10 days after the order's delivery/approval. Did not have to use it myself, but I like the fact that you can have up to 10 days to check everything and revise the paper for free.
Final quality and writer`s proficiency
As you remember, I've used the services of a regular writer and was not really dissatisfied with the paper. Obviously, I did not expect much from him; however, he got me a C+ for the assignment. After checking the paper by myself, I've noticed several typos, grammar and spelling mistakes along with some stylistic issues that did not look right for me.
Therefore, a regular writer can get you an above-average paper. In this regard, it's worth assuming that a more expensive writer will get you a better grade if you're highly interested in it.
People talking
Both Sitejabber and TrustPilot reviews are full of positive feedbacks from clients all over the world. Look at the screenshots below and see for yourself.
However, at the same time, there are not many reviews on both these platforms for a company that was originally set up in 2008. It's been almost 10 years now and they've gathered 19 feedbacks on SiteJabber and 41 on TrustPilot. Seems suspicious, right?
Therefore, it's up to you whether you want to trust these reviews or not. To me, there's not enough feedback to prove their credibility among other buyers. Nonetheless, they did a decent job for me, which is more important.
Loyalty program
These guys offer you the standard referral program. Once you create an account on this website, you'll be given a referral code that you can send to your friends. Each time a friend makes an order using your referral code, you'll get 10% of his/her order. This sum of money is stored on your account and can be used either as a discount for your future papers or withdrawn to your PayPal account.
So, there's a possibility for you to earn something there, which is nice.
Similar Reviews
FAQs
| | |
| --- | --- |
| Is essayassist.com legit? | There is an available revision policy, so students can request reviews and polish their papers within 10 days. I did not test it on my own, but it sounded fair. |
| Is essayassist.com scam? | It is not a scam service. But the paper from a regular writer will bring you no more than C, so think twice before ordering there. |
| Is essayassist.com reliable? | They did not miss my deadline, so thanks for that at least. The paper quality was average due to mistakes and typos that I found in my essay. |
| Is essayassist.com safe? | It seemed so because after reading information on the website, I did not find any pitfalls or tricky rules. Their policies look fair, so you should worry about your safety. |
| Is essayassist.com trustworthy? | If you are good with C grades, then yes. As I wrote above, the writer showed above-average performance, and the quality was mediocre, so I got a C+ on it. |
Comments (5)
yoyoyee311 says:
at 2021-02-18 12:48:00
Today, my professor give me back the paper. The comment is terrible. He thinks this paper is not at the university level and normally would not like to give me a grade. He said the paper is difficult for he to understand.
tmmcl76 says:
at 2021-03-20 19:20:00
It's hard to get quality work, and even if you send clear instructions, instructions are rarely followed
maisheba86 says:
at 2021-04-29 09:50:00
I got nothing what I asked for like complete nonsense as usual disappointed
demuths1 says:
at 2021-05-25 22:30:00
The paper was not completed on time, I missed my due date and when I reached out to customer support, they assured me it would be completed on time. A heads up that it was going to be late would have sufficed, but I received nothing. The details of the paper were also given, asking for essay format which must have been disregarded and 3 of the 4 questions have not been answered. The directions clearly were not followed. I am not satisfied at all with the timing or poor quality of this paper.
jade.iadarola says:
at 2021-06-14 13:29:00
THIS IS THE WORST EXPERIENCE I HAVE EVER HAD! I am beyond upset with this service.