Hey, want to make the most of writing services? Here's our this month's best picks:
Service with a negative reputation
Updated: September 08, 2022

Author: Will Martins
We don't recommend this service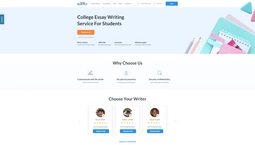 Pros
Detailed writer profiles with reviews and areas of expertise
Cons
Weak reasoning and multiple mistakes in a simple essay
No way to get your money back after seven days of getting the paper
Not a single EssaySupply review on Reddit, Trustpilot, or SiteJabber
No discounts for first-time or regular customers
| | |
| --- | --- |
| Owned by | PRO ESSAY Limited |
| Years in operation | 7 |
| Minimal price per page | $14.99 |
| Deadline | 24 hours |
| Revision policy | Yes |
| Refund policy | Yes |
EssaySupply is a part of Pro Essay Limited, a Cyprus-based academic writing company. With a clean interface and transparent information about their writers and order process, the website made an excellent first impression. It doesn't overwhelm you with bells and whistles. Instead, it is easy to navigate and get the order in.
However, the deeper I looked into the company, the more doubts arose. Let me share my findings and experience before you waste your money as I did. I will take you through the paces to answer the ultimate question. EssaySupply: scam or not?
Customer support
One of my biggest pet peeves when it comes to writing companies is the lack of online support. I don't have the time to wait for an email reply when my paper is due within two days. EssaySupply doesn't even offer a phone number, just an email and a mailing address in Cyprus.
Oh, they have an FAQ page, but the answers are hilarious or infuriating, depending on the question. It didn't help me in the slightest.
My experience
Is EssaySupply reliable? My experience proves otherwise. While the company tries to uphold a professional image, the results of their work are mediocre at best. I had trouble getting in touch with support agents and the writer, and many of my questions are still left unanswered. I won't be coming back for more papers, and I recommend you steer clear too.
Order form
The deceptively short order form on the homepage fooled me into believing I could be done with my essay in a couple of minutes. However, the order process was drawn out by the bidding stage. I had to wait for writers to supply the bids, and even those, I suspect, were fake.
I doubt anyone would want to pay more to the writer whose rating is only 5.5 out of 10. It felt like a sham, and the prices weren't that different from each other, so I decided to skip the bidding and go with an automatically assigned writer.
Discounts and pricing
It's a pity I can't tell you much about the rates because the pricing is unclear. The company claims the bidding process makes the rates competitive, but my 3-page essay with a 7-day deadline still cost me $49.65. That's not bad, but I've seen better prices.
The writers' bids ranged from $47 to $56. I could also get my order a top priority status for $4.95, but I didn't want to waste more money. There are no discounts for first-time customers, so don't go looking for a promo code.
Revisions
EssaySupply promises to revise the paper if you don't like it, but the revision rules aren't clear. I didn't find any specifics within the Terms of Use or Money-Back Guarantee. However, I learned that you only have seven days to claim a revision or a refund after you receive the order. After that, the writer gets your money, and there is no way to get it back.
I asked for a revision when I noticed the number of errors in the essay, but the writer didn't do a good job of cleaning them up. After wasting another day on this useless revision, I had to proofread on my own.
Final quality
So is EssaySupply legit? Judging by my essay, it isn't. You know I always go through the papers before submitting them, but this time I had to waste more time than usual. I was especially disappointed by the references the writer had used.
Considering the number of books and articles on the topic, they could have chosen reliable and unbiased sources instead of citing blog posts and wiki articles. I could have written a better piece without consulting any references, and that brings us to the next problem.
Writer's proficiency
I would love to accept that what the company says about the writers is true, but even their profiles look sketchy. Can you believe that one person can be proficient in Medicine, Business, and IT and work as an academic writer? Still, many of the writers' profiles claim just that.
I didn't have much preference and didn't want to waste time on a bidding process. I shouldn't complain much, but I will. The writer was clearly not a native English speaker with weird notions of grammar and punctuation.
Some glaring mistakes were repeated throughout the essay, so they were no typos. Judging by the C I got for the paper, the writer was not an expert in the field or didn't put much effort into my order.
People talking
Or are they? Do you want to guess what I found during my EssaySupply Reddit search? If you guessed nothing, you were right. Zero reviews on SiteJabber and Trustpilot both turned into another strike against the website for me. Considering the overall good feeling I had about the company, the lack of reviews didn't dissuade me.
I spent hours on the website and found lots of EssaySupply reviews there. I dived into top writers' profiles and found some feedback. Writers' reviews cracked me up a little because all of them read along the same lines. It was a pleasure working with you!' was the prevailing sentiment.
Loyalty program
If you expect any special treatment after placing a dozen orders, forget about it. I couldn't find a single EssaySupply discount code. The FAQ section promises the company keeps prices low instead of offering one-time discounts.
Still, I wouldn't count on their generosity. I've ranted about the weird pricing policy enough for one review, so let's move on.
Similar Reviews
FAQs
| | |
| --- | --- |
| What do essaysupply.com testimonials say? | Having googled EssaySupply reviews, I found nothing! Students did not leave comments on Trustpilot and SiteJabber, and there were zero reviews on Reddit. |
| Is essaysupply.com safe? | They provide a revision policy, but its rules are not clear, which makes me doubt the company's safety. I also tried to get it, but my writer did not edit the whole paper. |
| Is essaysupply.com reliable? | Definitely not! I faced problems getting in touch with support agents, and most of the time, my writer was offline. |
| What is essaysupply.com rating? | I didn't find any reviews about this service, so it's difficult to answer. But given my experience, I would say that EssaySupply rating is no more than 2.4 stars. |
| Is essaysupply.com legit? | Judging by the written paper, it's not a legit service. My writer preferred to сite blog posts and wiki articles, so it lowered my grade greatly. |
Comments (5)
maribelvilla328 says:
at 2021-03-11 15:10:00
I was grateful for the paper when it was delivered on time but I started reviewing it before submitting it and some things are pretty clear: 1. it was NOT written by a top writer from an Ivy league, or even a native English speaker- I am both and I can tell. 2. All the references are made up- when I tried to match the text with the references I found that the references have been randomly selected and have nothing to do with the text. Very disappointed.
wriley1984 says:
at 2021-02-28 14:06:00
Essay wasn't done right the first time making me late with my submission of paper.
bambilo2007 says:
at 2023-11-09 18:12:00
Paper is not turned in on time. Did not follow specific instructions. I am losing 10% due to your ineptitude.
Laliz2101 says:
at 2023-11-19 19:05:00
English is a little off, I will have to revise it. Doesn't seem like it was written by a PRO Writer. I have no time to send for revisions so I will have to make my own.
21ranne says:
at 2023-11-29 19:33:00
They did not acknowledge my feedback a single time. I will fail because of them.